For builders and developers along the Front Range and in Colorado's Rocky Mountain communities, wildfire is a serious threat. Its destructive power devastates lives, homes, and investments. Wildfires also destroy our beautiful forests—valuable Colorado assets that require decades to be restored.
Colorado FireBreak invites you to join us in protecting the Colorado wilderness, your communities, and mountain residents. The Colorado FireBreak system offers unparalleled protection for individual homes, housing developments, commercial buildings, and other structures. Unlike any other fire protection system available, it combines FireIce, a revolutionary new hydrogel, with an automated system of delivery. The Colorado FireBreak wildfire mitigation system not only protects structures, but also creates a firebreak to defend a perimeter—including trees, landscaping, etc.
For any commercial or residential development under the threat of wildfire, Colorado FireBreak is an investment that can preserve much that is nearly irreplaceable. As such, it can be expected to improve the marketability of a development and provide a persuasive selling point for buyers and tenants.
Testimonial about FireIce from Montana Firefighter:

How Colorado FireBreak Works
Water is the basis for nearly all fire mitigation systems. FireIce is the basis for the Colorado FireBreak system. FireIce allows us to turn 250 gallons of water into fire protection that outpaces that of a 2000 gallon cistern. This is an important advantage in an environment like the Colorado Rockies where water is often scarce.
FireIce gel has the wetness and hydration of water, but it does not evaporate like water. It is also a much more effective barrier to heat than water.
In research by the University of Minnesota, it takes the equivalent of 1 inch of water in 24 hours to provide some fire protection for a structure. With FireIce and much less water, the Colorado FireBreak system we can layer, in a matter of minutes, a gel up to 3/8" thick to protect structures, plants, and trees for days. Our system also can provide a thin layer on windows, keeping them cool so that heat does not break them and cause embers to enter. This is something that neither water nor even Class A foams can do.
Unlike many fire retardant sprays, FireIce gel is safe for plants, wildlife, children, and pets. If allowed to remain on the ground or on trees and plants, it will continue to hydrate and retain moisture every time it rains. Yes, it reconstitutes itself that easily!
Contact Us Today for a Consultation
The Colorado FireBreak system is completely customizable for various types and sizes of property. We can work with your architectural design team to provide engineering expertise and advice. In a housing or mixed-use development, a single system can protect several lots at a shared expense. Multiple tanks can be put in if neighbors want to share the cost of the install.  These systems can be scaled to any size.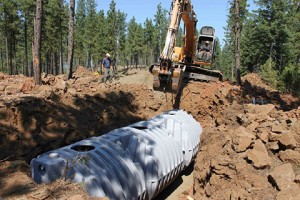 If you represent an HOA or are a developer or builder, we would like the opportunity to show you how our fire mitigation system can protect your community, neighbors, and everything that is priceless to them. Along with peace of mind, Colorado FireBreak provides increased appraisals and often lowered insurance premiums.
Send us a referral that signs a contract with us, and we'll reward you with a $200 restaurant gift card. We value your willingness to help us spread the word about our fire protection systems to residents, builders, and developers in Colorado and beyond.
More Information and Resources
Learn About the FireIce Home Defense Unit