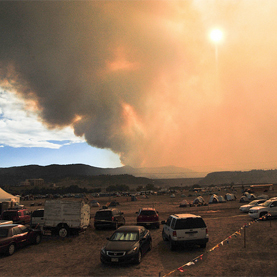 It has been over a year since the High Park fire was started when a tongue of lightning touched down in the foothills of the Colorado Rockies, and sparked the biggest wildfire in Larimer County history and the most destructive — with almost 200 buildings damaged to date — in the state's memory.
The High Park fire comes as a kind of second death for this stretch of the Arapaho-Roosevelt National Forest, where mountain pine beetles have held at epidemic levels for almost half a decade. Vast stretches of rust-red canopy, dry and primed for fire, are a testament to an infestation that has affected some 70 percent of the trees in the region.
Thanks to the beetles, there has been no shortage of ready fuel and the fire has spread quickly, whipped by sporadic winds from the southeast. Continue reading at scientificamerican.com.